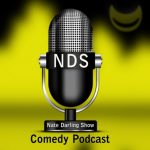 Originally Uploaded May 2013
With Ted & Becca away, Nick & Micaela Pettigrew join the show this week.  We talk about the upcoming 'Critical Hit' show at the Sacramento Comedy Spot.  The celebration of International Clitoris Awareness Week…the "celebrity" who's renounced his gayness and "science" class in South Carolina are discussed.
Also, BART ditches pee, a gym ditches Amanda Bynes and Kim Kardiashian squeals like a pig.  And we get down and dirty for Mud Season in Small Town News.
Show #102: Beef Jerky All Around