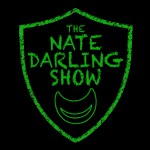 Nate, Christiana & Ted recap their various Thanksgivings…there's talk of Turkey and something called "Field Roast" Plus, a young TV star finds religion and wants out.
We play a round of 'name that 80s TV theme'…find out why men really don't ask for directions…and who among us would prefer a harem.
Small Town News is back as well with some "comfort food"
You can call the show now at (818) 861-6283 and leave a message!