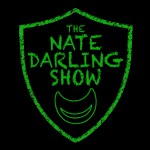 Some big announcements on this week's show including guests coming to visit, special episodes and even more of our silliness.
This time around…is Manti Te'o a victim, a perp or just a dumbass?  Plus, lubricating jeans…Nate's realization about Oprah's Lance Armstrong interview and the lengths one man went to for Cat videos.
Then Sexy Coffee Shop news is interrupted by an argument that pits Christiana vs. Nate…will Ted weigh in and settle things?  Or just look on?  And the town that wants a Walmart in Small Town News.