Sorry guys, Nate has bronchitis so no new shows this week…just one new sponsor, Target. Now you can shop Target.com and Amazon.com and support the show.
Originally uploaded July 2017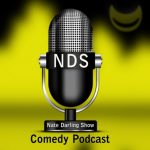 The internet hates us sometimes and we had to change plans on the fly. We have more 'Sex Toy News' and talk about Madonna's old panties…plus, the OJ Museum is coming.
Show #530: It's All Fucking Lost