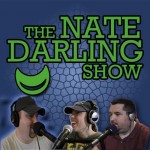 Originally posted June 2012
A crazy fun show this week!  We give a real big shout out to our favorite cheer team.  Mel & Larry defend people who are "just taking orders" Nate says something horribly inappropriate (I was being ridiculous on purpose, meter maids are NOT as bad as Nazis).  We tell you about the movie every gay dude has taken notice of…that Nate knew nothing about.
We suffer a slight computer "malfunction" mid-show & you get to hear our behind the scenes ignorance.
Plus, Nate explains how to properly seduce a lady…Mel explains Lady Business & Larry explains why dual dude stubble friction is a dangerous thing.
Show #51: How To Please A Lady