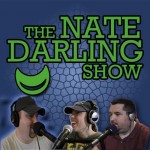 Nate, Larry & Mel talk gay marriage, the President, Bristol Palin and the Tanning Mom.  Plus, We play the Top 3 list game…Larry reveals a crush even HE didn't know about…Mel grows a salad…and Nate talks about the difficult decision about his cat Zippy.
Show #47: Zippy, Bristol & George Lopez
This show is dedicated to Zippy who was a loyal friend, confidant & supporter of the show.