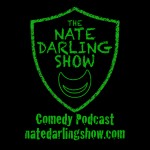 Ted & Becca are in NYC this week, so Nick & Micaela Pettigrew join Nate & Christiana for this week's shows.
A waiting period for tattoos & piercings reveals Christiana's love for body modification.  Find out what she'd like to get pierced and why she's holding off.
Plus, getting burned by limes, why porn does nothing and the pope is nice…why that's not good enough for some people.