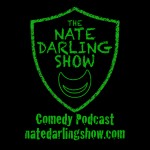 Ted & Becca are in NYC this week, so Nick & Micaela Pettigrew join Nate & Christiana for this week's shows.
We examine a lady thief with a terrible hiding place, a masked avenger and the man who's wife is a real doll.
Plus, Miley Cyrus breaks some news, Superman saves Wonder Woman and why a squirrel is a terrible mascot.