A newer "classic" show from December 2012.  New shows return on March 20th!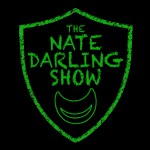 The Holiday Season is riding high and we've got the silly and serious.  The foiled plot to castrate Justin Bieber…the family that really pisses Nate off and a spirited argument over fat girls crying on TV.
Plus, Small Town News tracks major crime in Maine.
Email the show: natedarlingshow@rocketmail.com
Call us at: (818) 861-6283 and leave a message.