From October, 2012.  New Shows return March 20th!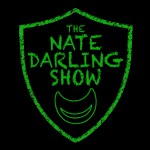 Arjun Singh from the band Wallpaper and the Public Access Show join us to talk about a new Wallpaper album, Carly Rae Jepsen and Billie Joe Armstrong.
Plus, Mel has an odd soft spot for an evil beard…Nate goes to the WWE and Larry is talking to Russia. Also, the strange sounds in Small Town News.