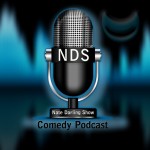 Nate is on a Honeymoon Break, new shows return 12/14.
A cool mom…a nude dude and a Phucking Hoax! What Bindi Irwin is doing with her Dancing with the Stars prize money, Ice-T becomes an OD (old dad) and a surprising fact about the 48 piece McNugget in Japan.
This holiday season, please shop Amazon.com thru the Shop Amazon tab at natedarlingshow.com. It supports the show and doesn't cost you anything extra.
Subscribe on iTunes | Subscribe on Android | Subscribe via RSS