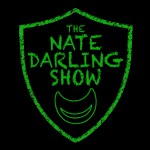 Originally uploaded March 2013
We launch our first Friday show ever…there will be 2 shows a week (Wed & Fri) from now on.
Are babies evil?  Is it ok to use a burrito as a weapon?  And what exactly is a "dirty chisler"  Plus, the new scam that's leaving men with their pants down.
In our new segment "Good, Bad & God-Awful"…we advise Chris Brown, Taylor Swift and John Oliver.  What it's like being a social worker in one of San Francisco's neighborhoods…and Christiana's story of living in 'the Loin'