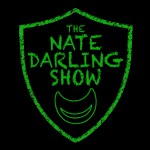 Not one but 2 major announcements about the show to lead things off. Don't worry, the show will still be here every week.
Larry is stuck at work, so Chris Crotty from ComedySportz Sacramento sits in. We talk unarrestable republicans, nut punchers, nut slappers and how Mel made a scene at a friends wedding.
Not only that…but we pitch a new TV sitcom and have the quickest round of 'Cool or Tool' ever.