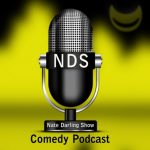 Originally uploaded March 2013
Hey, Good Friday Everybody!  On this episode, Ted gets in a Fender Bender, Christiana gives Tina Fey too much credit and Nate dodges furniture on the freeway.  Plus, Becca's "silent retreat" isn't what she bargained for, why she needed a retreat from the retreat.
We've got penis news, from big to small and Rush Limbaugh has some opinions about Beyonce and how chickens might be turning your kids gay!
Show #91: Meditation Chatterbox