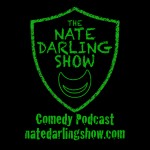 We press onward…again without Becca…and with Christiana battling a frog in her throat.  We talk about Target and how they allegedly handle Hispanic workers, Snooki's letter to Kate Middleton on being a new mom and why Diet Soda could be super bad for you.
Plus, Elizabeth Hasslebeck is leaving the view…and the new person joining that gabfest that sent Nate a little over the edge…there was some collateral damage.  Also, a new proposal in Australia and why we aren't interested in having a pool.
Show #123: And Another Thing! or ¡Viva Target!