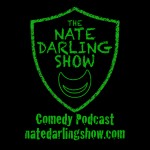 Ted & Becca return: we have news on a cancelled improv show…plus how one reporter talked to Matthew Perry about his show getting cancelled.  We talk about Abercrombie's "No Fat Chicks" policy and the weirdness of the man who runs it.
Then we are joined by Sean Greenwood from Ben & Jerry's.  Find out how much of an impression their ice cream has made on Becca, his recent encounter with a former President while visiting a talk show host and yes, there IS something in the B&J line-up for Vegans too.
Hang out and listen for an hour!