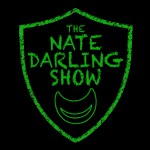 Originally uploaded May 2013
We set forth on our next 100 shows with a hum dinger! A fired news anchor makes the rounds in New York City…how his swearing in Bismarck, North Dakota landed him on Letterman…and Live with Kelly & Michael….and the Today Show. Fuck, we swear all the goddamn time and none of those whorish assmasters ever invites us.
Find out the best and worst jobs of 2013…and Becca does a dramatic reading of the angriest Sorority email ever…and you will love it.
Show #101: Becca Says The F-Word…A LOT!