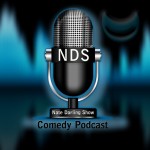 Originally Posted December 2013
With Diana & Nate under the weather, please enjoy this classic episode.
Diana Hong joins Nate, Ted & Christiana as we explore the world of "Clam Jousting"…the Governor of Maine comes up with a bright side to global warming…and Angry, Drunk Roseanne.
Also, why it's so hard to be a lesbian, a door on fire and Nate yells at Jenny McCarthy and Oprah.