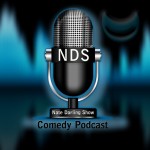 Originally posted November 2012
With Nate & Diana under the weather, please enjoy this classic episode…the first with Nate, Christiana & Ted!
Ted, Christiana & Nate team up for their first show together as the new cast. Learn about Ted…his trip to Israel and how that prompted Nate to remember a long forgotten media star. Find out how John Kerry turned a Southern California girl into a West Virginia University fan.  Plus, our Thanksgiving traditions, the Lions suck and our plans for this year's celebration.
You can now call the show and leave us a message anytime at (818) 861-6283. We might even play it on the show.